Studying at the University of Verona
Here you can find information on the organisational aspects of the Programme, lecture timetables, learning activities and useful contact details for your time at the University, from enrolment to graduation.
Academic calendar
The academic calendar shows the deadlines and scheduled events that are relevant to students, teaching and technical-administrative staff of the University. Public holidays and University closures are also indicated. The academic year normally begins on 1 October each year and ends on 30 September of the following year.
Course calendar
The Academic Calendar sets out the degree programme lecture and exam timetables, as well as the relevant university closure dates..
For the year 2003/2004 No calendar yet available
Exam calendar
Exam dates and rounds are managed by the relevant Science and Engineering Teaching and Student Services Unit.
To view all the exam sessions available, please use the Exam dashboard on ESSE3. If you forgot your login details or have problems logging in, please contact the relevant IT HelpDesk, or check the login details recovery web page.
Should you have any doubts or questions, please check the Enrolment FAQs
Academic staff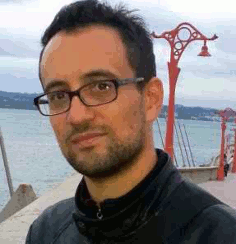 Fatone Francesco
francesco.fatone@univr.it
045 802 7965
Study Plan
The Study Plan includes all modules, teaching and learning activities that each student will need to undertake during their time at the University. Please select your Study Plan based on your enrolment year.
activated in the A.Y. 2004/2005
activated in the A.Y. 2005/2006
activated in the A.Y. 2006/2007
Language workshop (English)
2
F
-
activated in the A.Y. 2007/2008
European legislation on biotechnology and bio-security
4
C
-
Biochemical methodology
4
B
-
2° Year activated in the A.Y. 2004/2005
3° Year activated in the A.Y. 2005/2006
4° Year activated in the A.Y. 2006/2007
Language workshop (English)
2
F
-
5° Year activated in the A.Y. 2007/2008
European legislation on biotechnology and bio-security
4
C
-
Biochemical methodology
4
B
-
Legend | Type of training activity (TTA)
TAF (Type of Educational Activity) All courses and activities are classified into different types of educational activities, indicated by a letter.
---
---
---
S
Placements in companies, public or private institutions and professional associations
Molecular farming (2006/2007)
Scientific Disciplinary Sector (SSD)
AGR/07 - AGRICULTURAL GENETICS
Period
2nd semester dal Mar 1, 2007 al Jun 8, 2007.
Learning outcomes
Negli ultimi quindici anni, grazie all'applicazione delle tecnologie del DNA ricombinante, le piante sono emerse come sistema di espressione potenzialmente più economico e più sicuro rispetto ai sistemi basati su cellule microbiche, eucariotiche di mammifero e animali transgenici. La produzione di molecole di interesse terapeutico, diagnostico e tecnico nelle piante è definito in inglese "Molecular Farming". Questo corso "Farming Molecolare", nome peraltro senza significato nella lingua italiana, si propone di illustrare sia gli aspetti tecnologici della produzione in pianta di proteine ricombinanti di interesse terapeutico sia di analizzare il tipo di molecole terapeutiche e tecniche espresse ed esprimibili nelle piante e la loro potenziale applicazione
Program
I sistemi di espressione di proteine in pianta:
transiente: i virus vegetali come vettori
stabile: trasformazione nucleare, la trasformazione plastidica
Target dell'espressione nei comparti cellulari
Espressione organo specifico (seme)
Le sospensioni cellulari e l'hairy roots
Le piante ospiti e i modelli
Piante "Food" e "non food"
Le alghe
Le molecole:
Anticorpi
Vaccini
Antigeni
Peptidi
Le modificazioni post-traduzionali in pianta
La glicosilazione in pianta
La quantificazione delle proteine ricombinanti espresse in painta
La funzionalità e l'attività biologica delle proteine espresse in pianta
L'espressione dopo la conservazione
I processi di estrazione e purificazione
Efficacia negli studi clinici
Examination Methods
Valutazione del grado di preparazione mediante colloquio
Students with disabilities or specific learning disorders (SLD), who intend to request the adaptation of the exam, must follow the instructions given HERE
Type D and Type F activities
Documents and news
Modules not yet included
Module/Programme news
News for students
There you will find information, resources and services useful during your time at the University (Student's exam record, your study plan on ESSE3, Distance Learning courses, university email account, office forms, administrative procedures, etc.). You can log into MyUnivr with your GIA login details: only in this way will you be able to receive notification of all the notices from your teachers and your secretariat via email and soon also via the Univr app.
Further services
I servizi e le attività di orientamento sono pensati per fornire alle future matricole gli strumenti e le informazioni che consentano loro di compiere una scelta consapevole del corso di studi universitario.