Studying at the University of Verona
Here you can find information on the organisational aspects of the Programme, lecture timetables, learning activities and useful contact details for your time at the University, from enrolment to graduation.
Academic calendar
The academic calendar shows the deadlines and scheduled events that are relevant to students, teaching and technical-administrative staff of the University. Public holidays and University closures are also indicated. The academic year normally begins on 1 October each year and ends on 30 September of the following year.
Course calendar
The Academic Calendar sets out the degree programme lecture and exam timetables, as well as the relevant university closure dates..
Definition of lesson periods

| Period | From | To |
| --- | --- | --- |
| 1° sem | Oct 3, 2005 | Jan 23, 2006 |
| 2° sem | Mar 1, 2006 | Jun 9, 2006 |
Exam sessions

| Session | From | To |
| --- | --- | --- |
| Winter term | Feb 1, 2006 | Feb 28, 2006 |
| Summer term | Jun 19, 2006 | Jul 21, 2006 |
| Autumn term | Sep 4, 2006 | Sep 29, 2006 |
Holidays

| Period | From | To |
| --- | --- | --- |
| All Saints Day Holiday | Nov 1, 2005 | Nov 1, 2005 |
| Immaculate Conception | Dec 8, 2005 | Dec 8, 2005 |
| Christmas holidays | Dec 23, 2005 | Jan 7, 2006 |
| Easter Holidays | Apr 13, 2006 | Apr 19, 2006 |
| Liberation Day | Apr 25, 2006 | Apr 25, 2006 |
| Labour Day | May 1, 2006 | May 1, 2006 |
| Saint's Day Holiday | May 21, 2006 | May 21, 2006 |
| Day of the Republic | Jun 2, 2006 | Jun 2, 2006 |
| Summer holidays | Jul 31, 2006 | Aug 31, 2006 |
Exam calendar
Exam dates and rounds are managed by the relevant Science and Engineering Teaching and Student Services Unit.
To view all the exam sessions available, please use the Exam dashboard on ESSE3. If you forgot your login details or have problems logging in, please contact the relevant IT HelpDesk, or check the login details recovery web page.
Should you have any doubts or questions, please check the Enrolment FAQs
Academic staff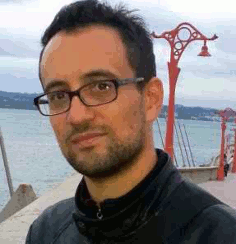 Fatone Francesco
francesco.fatone@univr.it
045 802 7965
Study Plan
The Study Plan includes all modules, teaching and learning activities that each student will need to undertake during their time at the University. Please select your Study Plan based on your enrolment year.
Legend | Type of training activity (TTA)
TAF (Type of Educational Activity) All courses and activities are classified into different types of educational activities, indicated by a letter.
---
---
---
S
Placements in companies, public or private institutions and professional associations
Bioinformatics (2008/2009)
The teaching is organized as follows:
Learning outcomes
Module: Teoria
-------
The aim of the course is to provide the students the tools needed for the analysis and interpretration of the biological data. Indeed, the course intends to give the theortical basis for the application of the principal bioinformatic tools, used in genomics and proteomics


Module: Laboratorio
-------
The laboratory aims to provide intensive practical lessons in which freely available state of art tools wil be used in order to access and anlyze the biological relevant data.
Program
Module: Teoria
-------
Biological databases. FASTA format. We will analyze the way in which the principal biological databases are used for the anotation of genomes. ENSEMBL.

Methods for the prediction and the annotation of the functional elements of a genome

Computational approaches in comparative genomics.

Using DNA microarrays to Assay gene expression.

Sequence alignment. Scoring matrices PAM and BLOSUM. Algorithms. Profiles.

Protein evolution.

3D protein structure prediction: Comparative modelling, Fold recognition and ab initio methods.


Module: Laboratorio
-------
Database interrogation techniques. Use of the principal genomewide datasets.

Methods for sequence alignment. Use of the principal programs.

Evolution. Database search by similarity. Statistical significance of the obtained results. Use of the programs: FASTA, BLAST, PSI-Blast.

Use of state of art programs for the prediction of the 3D structure of a protein.

Gene prediction using state of art programs.
Use of ENSEMBL database.

Using DNA Microarrays to Assay gene expression. Clustering. TIGR.

Functional annotation:
. Gene Ontology (GO).
Examination Methods
Module: Teoria
-------
Written


Module: Laboratorio
-------
written
???AdattamentoProvaEsameDSA???
Type D and Type F activities
Modules not yet included
Module/Programme news
News for students
There you will find information, resources and services useful during your time at the University (Student's exam record, your study plan on ESSE3, Distance Learning courses, university email account, office forms, administrative procedures, etc.). You can log into MyUnivr with your GIA login details.
Further services
I servizi e le attività di orientamento sono pensati per fornire alle future matricole gli strumenti e le informazioni che consentano loro di compiere una scelta consapevole del corso di studi universitario.