Studying at the University of Verona
Here you can find information on the organisational aspects of the Programme, lecture timetables, learning activities and useful contact details for your time at the University, from enrolment to graduation.
Academic calendar
The academic calendar shows the deadlines and scheduled events that are relevant to students, teaching and technical-administrative staff of the University. Public holidays and University closures are also indicated. The academic year normally begins on 1 October each year and ends on 30 September of the following year.
Academic calendar
Course calendar
The Academic Calendar sets out the degree programme lecture and exam timetables, as well as the relevant university closure dates..
Definition of lesson periods

| Period | From | To |
| --- | --- | --- |
| 1st Semester | Oct 1, 2009 | Jan 31, 2010 |
| 2nd Semester | Mar 1, 2010 | Jun 15, 2010 |
Exam sessions

| Session | From | To |
| --- | --- | --- |
| Sessione straordinaria | Feb 1, 2010 | Feb 28, 2010 |
| Sessione estiva | Jun 16, 2010 | Jul 31, 2010 |
| Sessione autunnale | Sep 1, 2010 | Sep 30, 2010 |
Degree sessions

| Session | From | To |
| --- | --- | --- |
| Sessione autunnale | Sep 30, 2009 | Sep 30, 2009 |
| Sessione straordinaria | Dec 9, 2009 | Dec 9, 2009 |
| Sessione invernale | Mar 16, 2010 | Mar 16, 2010 |
| Sessione estiva | Jul 13, 2010 | Jul 13, 2010 |
Holidays

| Period | From | To |
| --- | --- | --- |
| Festa di Ognissanti | Nov 1, 2009 | Nov 1, 2009 |
| Festa dell'Immacolata Concezione | Dec 8, 2009 | Dec 8, 2009 |
| Vacanze Natalizie | Dec 21, 2009 | Jan 6, 2010 |
| Vacanze Pasquali | Apr 2, 2010 | Apr 6, 2010 |
| Festa della Liberazione | Apr 25, 2010 | Apr 25, 2010 |
| Festa del Lavoro | May 1, 2010 | May 1, 2010 |
| Festa del Santo Patrono di Verona S. Zeno | May 21, 2010 | May 21, 2010 |
| Festa della Repubblica | Jun 2, 2010 | Jun 2, 2010 |
| Vacanze Estive | Aug 9, 2010 | Aug 15, 2010 |
Exam calendar
Exam dates and rounds are managed by the relevant Science and Engineering Teaching and Student Services Unit.
To view all the exam sessions available, please use the Exam dashboard on ESSE3. If you forgot your login details or have problems logging in, please contact the relevant IT HelpDesk, or check the login details recovery web page.
Exam calendar
Should you have any doubts or questions, please check the Enrolment FAQs
Academic staff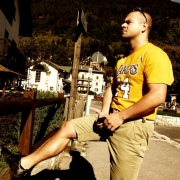 Squassina Marco
marco.squassina@univr.it +39 045 802 7913
Study Plan
The Study Plan includes all modules, teaching and learning activities that each student will need to undertake during their time at the University. Please select your Study Plan based on your enrolment year.
Altre attivita' formative
4
F
-
Altre attivita' formative
4
F
-
Legend | Type of training activity (TTA)
TAF (Type of Educational Activity) All courses and activities are classified into different types of educational activities, indicated by a letter.
---
---
---
S
Placements in companies, public or private institutions and professional associations
Differential geometry and topology (2009/2010)
Scientific Disciplinary Sector (SSD)
MAT/03 - GEOMETRY
Period
1st Semester dal Oct 1, 2009 al Jan 31, 2010.
Learning outcomes
Learning objectives

The course delves further into general topology and introduces the basic notions of algebraic
and differential topology, focussing on the concept of differentiable manifold. Furthermore, the
elements of Riemannian geometry will be introduced as well.
The course, suitable to both curricula (didactic and applied) will be quite concrete and based
on examples also coming from other areas of mathematics.
Program
Course Programme

General topology (continued). Separation. Quotients.
Fundamental group. Covering spaces.
Differentiable manifolds.
De Rham's theory.
Riemannian manifolds.
Levi-Civita connection.
Curvature tensors (Riemann, sectional, Ricci, scalar).
Geodesics and their variational aspects.
Exponential map.
Lie groups. Symmetric spaces.
Riemann surfaces and algebraic curves.
Vector bundles, Euler's class and number, Euler-Poincare' characteristic.
The Poincare'-Hopf theorem.
Examination Methods
Written test, followed by an oral exam.
Teaching materials
Type D and Type F activities
Modules not yet included
Module/Programme news
News for students
There you will find information, resources and services useful during your time at the University (Student's exam record, your study plan on ESSE3, Distance Learning courses, university email account, office forms, administrative procedures, etc.). You can log into MyUnivr with your GIA login details.
Further services
I servizi e le attività di orientamento sono pensati per fornire alle future matricole gli strumenti e le informazioni che consentano loro di compiere una scelta consapevole del corso di studi universitario.
Graduation
Attachments
List of theses and work experience proposals
Double degree
The University of Verona, through a network of agreements with foreign universities, offers international courses that enable students to gain a Double/Joint degree at the time of graduation. Indeed, students enrolled in a Double/Joint degree programme will be able to obtain both the degree of the University of Verona and the degree issued by the Partner University abroad - where they are expected to attend part of the programme -, in the time it normally takes to gain a common Master's degree. The institutions concerned shall ensure that both degrees are recognised in the two countries.
Places on these programmes are limited, and admissions and any applicable grants are subject to applicants being selected in a specific Call for applications.
The latest Call for applications for Double/Joint Degrees at the University of Verona is available now!
Alternative learning activities
In order to make the study path more flexible, it is possible to request the substitution of some modules with others of the same course of study in Mathematics at the University of Verona (if the educational objectives of the modules to be substituted have already been achieved in the previous career), or with others of the course of study in
Mathematics
at the University of Trento.
Attachments
Attendance
As stated in point 25 of the Teaching Regulations for the A.Y. 2021/2022, except for specific practical or lab activities, attendance is not mandatory. Regarding these activities, please see the web page of each module for information on the number of hours that must be attended on-site.
Please refer to the Crisis Unit's
latest updates
for the mode of teaching.